With the launch of our Wairarapa Gift Box, we're just a little bit excited to share that We Love Local now covers all Wellington regions.
Okay, okay – we're super excited!
We had the idea for our small business back in 2018, when we were originally called Kāpiti Goodies. As our namesake implied, we never expected to support local businesses and their goods outside our own region, so the fact that we now showcase producers from all districts in the wider Wellington regions, specifically Horowhenua, Porirua, Wellington, The Hutt and now the Wairarapa — is really exciting.
Of course it's exciting because we're growing and expanding, but the real reason we're so happy is because of the potential a milestone like this has to impact our local economy in a really powerful way. We know Wellingtonians have always had a tendency to support local businesses, but we are seeing more interest and demand in locally produced goods than ever.
In covering more than 8000km2 of land, we're able to play an integral role – alongside you, of course – in supporting the small business owners, their families, the people they employ and now our regional economy. From changing your supermarket-shopping habits to choosing locally-made gifts, every time we support a business close to home, the stronger and more agile our country becomes.
We never expected to be taken on the rollercoaster ride that 2020 has been. Like nearly everyone in New Zealand, we were prepared more for an earthquake than we were a global pandemic! But in many ways, this year has taught us to appreciate the simple things, so without further adieu, we're excited to share the contents of our Wonderful Wairarapa Gift Box, featuring small but luscious goodies from Martinborough, Greytown and Carterton (sshhhh…. we're still looking for businesses from Masterton to join).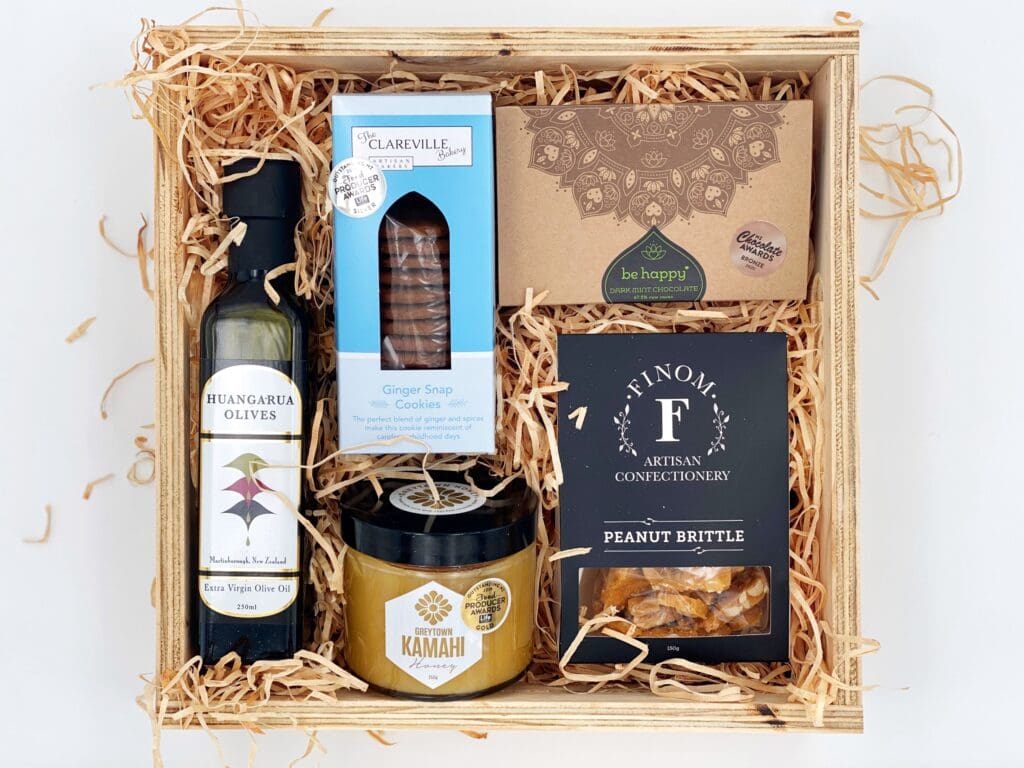 This cold-pressed extra virgin olive oil is made on a family-run estate in Martinborough on mineral-laden, good-draining soils in a productive micro-climate. The resulting Huangarua Olive Oil is a fresh, vibrant, boutique oil that enhances whatever it drizzles; whether it's a fresh salad, a winter stew or even a dessert.
Delicious, handmade be happy chocolate from Martinborough is a 2020 bronze award winner at the New Zealand Chocolate Awards. Not only is it dairy-free and refined sugar-free, they donate 5% of their profits go to the Rainforest Foundation. That's a lot of goodness in one block.
Greytown Honey is made by fifth generation beekeepers, producing Manuka, Wildflower, Kamahi, Native and Clover honey. Thanks to the partnerships the family have maintained over five generations, they're able to place their beehives on untouched native bush sites and special farmland throughout the beautiful Wairarapa region, enabling a highly sustainable operation. Oh and it's creamy-butterscotch-level yum, too!
We've not come across anyone who doesn't love brittle. Straight out the packet, matched with a craft beer or adorning a desert – mmm. Sarah from Finom actually specializes in baking the most moreish macarons, and ensuring that all the goodies she makes look as good as they taste. We think Finom's Peanut Brittle really is finomenal.
The Clareville Bakery is an essential stop for Wairarapa locals or anyone passing through the region, and our gift basket includes their ever-popular and award-winning Ginger Snap Cookies, the flavour of which they themselves describe as "reminiscent of carefree, childhood days". We'll take any opportunity to channel our inner-child!
We think our Wonderful Wairarapa Gift Basket is comfort and indulgence in a box. For anyone who loves exploring the popular wine region in Martinborough, poking around in the boutique stores in Greytown, or exploring all that Carterton has to offer – our Wairarapa Gift Basket will transport you to the region of big skies, wide valleys and old-homestead character.
So – which region is next? Stay tuned (and perhaps sign up to our newsletter to find out)!