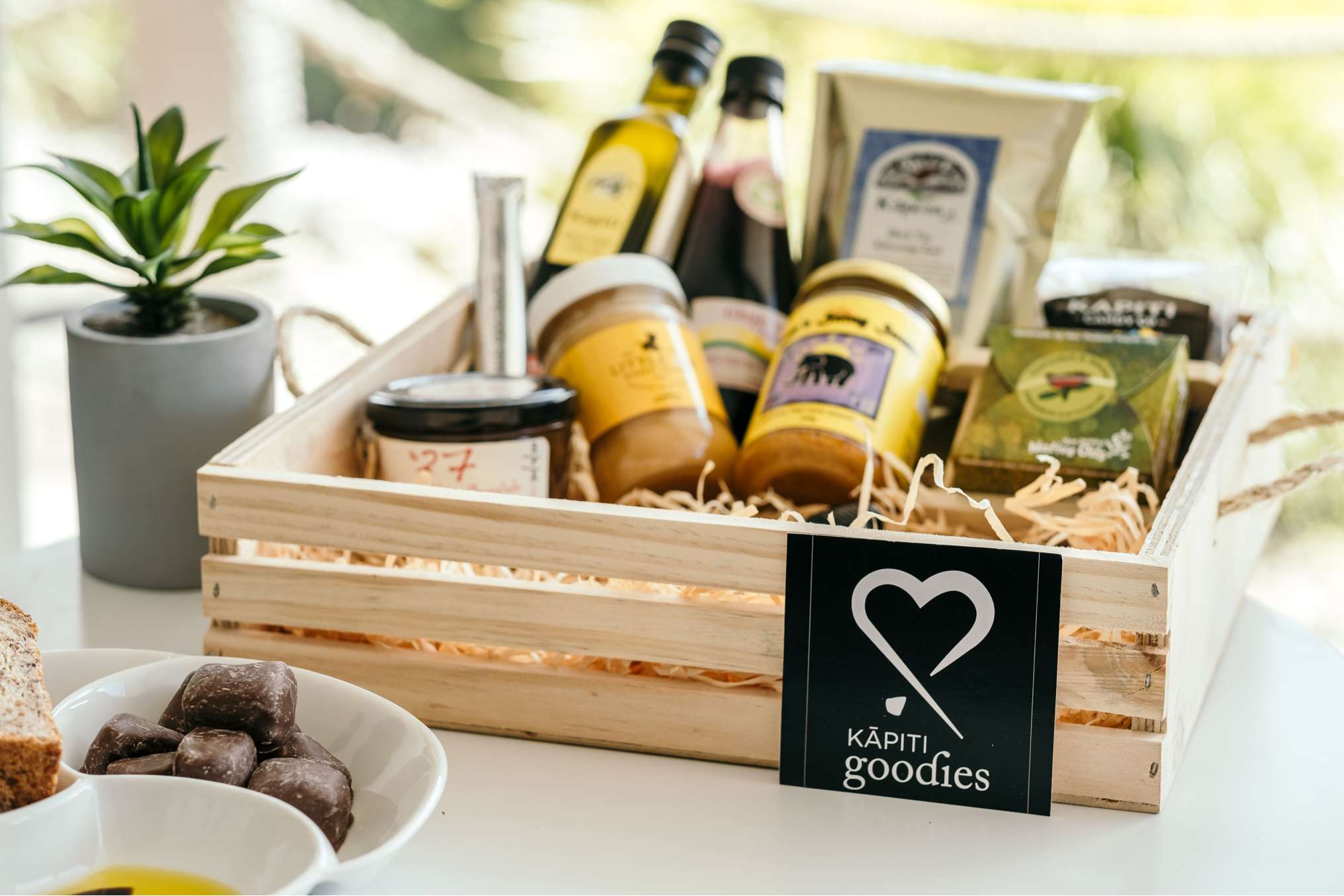 Today, we're proud to announce a new look for Kāpiti Goodies! We are excited to share our brand refresh with you, explain why we made the changes, and celebrate the amazing people who worked with us on this project.
Kāpiti Goodies launched just before Christmas last year to help build a local food and gifting eco-system that embraces the power of community to positively impact the Kāpiti Coast District. Since then, we sold more than 100 gift boxes both locally and New Zealand-wide, and the time has come for this little side project to become a real business with a professional look.
Meet the new logo
Our updated logo stands for a sophisticated and handcrafted brand. The black tag is a mark of quality and a seal of approval, with the heart symbol stylised in the form of a bow to sum up Kāpiti Goodies' care and approach to customer experience. This heart ribbon symbol is easily recognisable at both small and large sizes to use online and when visiting local markets. The combination of a serif and san serif font adds quality, trust and modernity.
It was also important for the brand to align with our values:
quality
customer experience
artisan
social good
local
The new logo has now been rolled out on Facebook & Instagram, and we revealed our fresh look for the first time at the Kapiti Women's Expo yesterday:
The new gift boxes
As you may know, our wooden boxes are made locally by The Shed Project – a community space providing opportunities for the differently-abled. We worked closely with The Shed Project on a new look for our gift box and they did an outstanding job as you can see:
Working with local experts
Sourcing as much as we can locally and supporting people in Kāpiti is at the heart of our company. We couldn't have done it without the amazing work of these local businesses:
Delaney & CO. Public Relations – for helping with market segmentation, market research and a marketing strategy
Eden Design – for creating the visual brand and designing flyers, the box sleeve, gift cards, and more
Precise Print – for guiding us and doing an amazing job with printing all our marketing collateral
Thank you for working with us.
Of course, we also couldn't do this without these great local artisan producers:
There is so much to love about Kāpiti, its people and its products. If you like what you're seeing, we would appreciate it if you spread the word to your friends and family.
Kia ora tātou katoa!